Jazz at the Sequoia Room
EVERY FRIDAY AND SATURDAY EVENING STARTING AT 6 PM.
Nelson-Barshay-Hart Trio
Event Navigation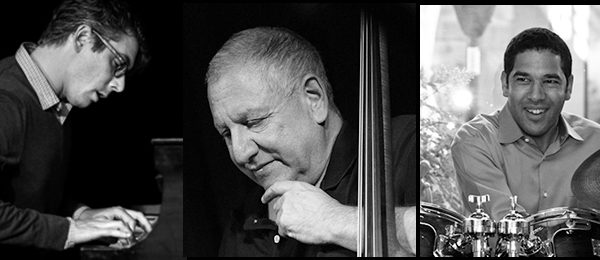 Nelson-Barshay-Hart  Trio
One Show – 7:30 pm
Pianist Josh Nelson with bassist Peter Barshay and drummer Lorca Hart
Josh Nelson was born and raised in Southern California, maintains an active and creative schedule as a jazz pianist, composer, teacher, and recording artist. At 38 years old, he has already performed with some of the most respected names in jazz, including Natalie Cole, Anthony Wilson, George Mraz, Jeff Hamilton, Richard Galliano, Benny Golson, Sheila Jordan, Greg Hutchinson, John Clayton, Seamus Blake, Matt Wilson, Sara Gazarek, Dave Koz, Joe Chambers, Kurt Elling, John Pizzarelli, Lewis Nash, and Peter Erskine, to name a few.
In 2006, Josh was one of only twelve semi-finalists in the prestigious Thelonious Monk International Jazz Piano Competition. Josh has recorded for countless albums, films, and TV shows, but also makes time for his own projects: Anticipation (2004) and Let it Go (2007, Native Language Music) both garnered international critical acclaim. Josh's fourth album, I Hear a Rhapsody (2009), featured his original compositions, standard interpretations, and reinventions of rock tunes. Discoveries (2011), introduced a pairing of classic science fiction ephemera with new compositions for a brass and wind ensemble (featuring a live ongoing video projection and art installation component as well, called The Discovery Project). His latest album Exploring Mars (2015) explores musical themes on the Red Planet, along with spectacular NASA/JPL Martian video footage.
Peter Barshay is veteran bassist who has established a strong reputation over the years from his sideman work on both the New York City and San Francisco Bay Area jazz scenes, Peter Barshay has performed with such jazz luminaries as Kenny Barron, Freddie Hubbard, Sonny Stitt, Kenny Werner, Shirley Horn, Woody Shaw, Pharoah Sanders, Blue Mitchell, Tony Williams, Joe Henderson, Joe Lovano, Johnny Griffin and Bobby McFerrin. Barshay's numerous appearances at clubs and jazz festivals have taken him around the world, helping to establish his reputation as a solid, reliable bassist. Having soaked up a lifetime of sounds on both coasts — everything from salsa and straight ahead to funk-fusion, avant garde and music derived from the Afro-Cuban and Brazilian traditions — he brings a wealth of experience to the musical table.
Drummer Lorca Hart grew up in Taos, New Mexico in a musical family. He was exposed to a variety of instruments and musical styles as a child but early on it became clear that the drumset was his passion. In high school he started to perform and focus on Jazz. He attended California Institute of the Arts from 1992-96, studying with Albert "Tootie" Heath, Joe La Barbera, Charlie Haden, Wadada Leo Smith, and many others.
Since that time Lorca has worked consistently in a variety of musical situations, performing with many of the West Coast's (and beyond) finest artists including : Ralph Moore, Carmen Lundy, Freddie Hubbard, Calvin Keys, Stanley Jordan, Craig Handy, Kyle Eastwood, Herman Riley, Azar Lawrence, Red Holloway, Plas Johnson, John Heard, Danny Grissett, Justo Almario, Bennie Maupin, Phil Ranelin, Dave Pike, Don Menza, Hugh Masekela, Bobby Rodriguez, the Clayton Brothers, Anthony Wilson, Julian Lage, storyteller/radio personality Joe Frank, actor/musicians Jeff Goldblum and Peter Weller, Ronald Muldrow, and the Cross Hart Jazz Experience (the project that he co-leads with bass player Ryan Cross). He also leads his own trio featuring Josh Nelson on piano and Edwin Livingston on bass. Lorca can be heard on recordings by Hugh Masekela, John Heard, Justo Almario, Ronald Muldrow, Dave Pike, Phil Ranelin, the Cross Hart Jazz Experience, and the Lorca Hart Trio.