The Sequoia Room
FRIDAY AND SATURDAY EVENINGS
etix is our only authorized ticket outlet
2nd Hand Grass
Event Navigation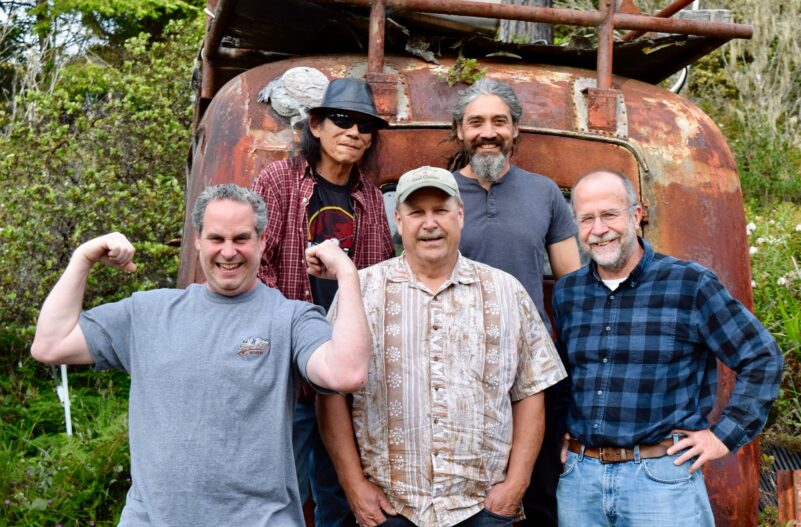 2nd Hand Grass
Saturday, February 1 at 7:30 pm
Top Row (from left):  Butch Kwan, Sam Arintok;
Bottom Row: Brian Urban, Lee Rider, Dan Coulson
Formed in 2019, 2nd Hand Grass plays Bluegrass but so much more, putting our own twist on songs by The Band, Bruce Springsteen, ZZ Top, as well as Bill Monroe, Peter Rowan, Flatt and Scruggs and other more traditional bluegrass artists.
2nd Hand Grass is comprised of veteran coast musicians from diverse backgrounds:
Brian Urban (banjo, guitar, lead and harmony vocals):  Brian grew up in southern Minnesota and started playing piano at age 5, started playing the guitar in his early teens and banjo in his early 20's. He and his brothers formed the band Hi Grass Bluegrass and played shows regionally.  After moving to the coast he has been a mainstay in the Hwy 1 band and Soul Shakedown .  Believe it or not, Brian has not done much lead singing but is our main singer now.
Butch Kwan (fiddle, mandolin, guitar, lead and harmony vocals): Butch began studying music in 1961 taking violin lessons in Chicago when he was eleven years old.  He began guitar in 1964 influenced by the rich Chicago Blues scene. He moved to L.A. in 1971 and played with musicians in the San Fernando Valley till 1974.  He then moved to Mendocino and has been playing ever since and is a staple of the musical community. In 1984 he went back to L.A. to attend the Musician's Institute to study guitar and music theory.  He has played mostly blues and rock on the coast in a myriad of bands, and has taught music locally for many years..
Dan Coulson (electric and stand-up bass):  Dan has been playing music in a variety of styles for close to 50 years. He started out performing with his family band back in the 1970s (The Coulson Family Jazz Band). He has played in Jazz Big Bands, Punk Rock Ensembles, Polka Bands, Dixieland Bands, Folk Rock Bands, Top 40 bands and many other styles all over the world. In addition to the basses he also plays the tuba and trombone.
Sam Arintok (drums, lead and harmony vocals):  Sam has been a musician for over 50 years. Recording and touring with many bands in the Sacramento and Bay Area, with eclectic influences that range from punk to diverse music from around the globe. A multi-instrumentalist and songwriter, Sam eagerly embraces any new musical experience.
Lee Rider (guitar, pedal steel, lap steel, dobro):  Lee started playing cello in grade school, clarinet in middle school and picked up the guitar in his early teens.  He started playing bluegrass in high school when a banjo player from Kentucky arrived.  He moved to the northwest and was a founding member of the Catch & Release bluegrass band, playing many of the major northwest festivals. Since moving to the coast in 2001, Lee has played with a variety of bands including The Rusticators, The Wayfinders and has backed many locals.