The Sequoia Room
FRIDAY AND SATURDAY EVENINGS
etix is our only authorized ticket outlet
Majide plus Jenna Mammina & Rolf Sturm
Event Navigation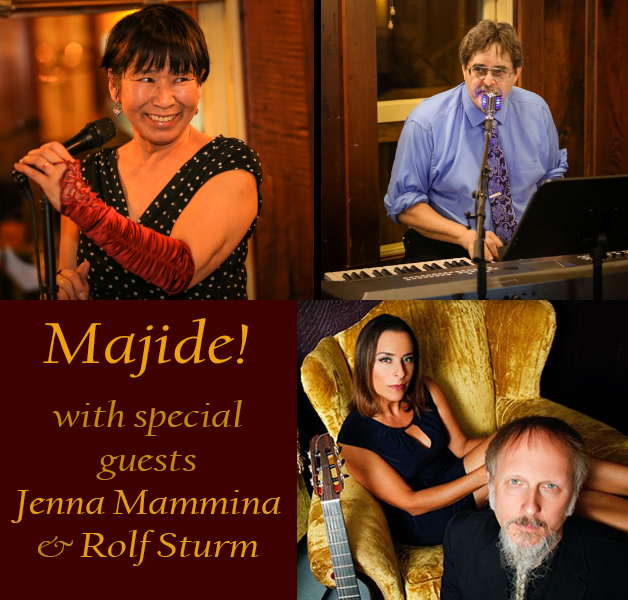 Majide!
Friday, February 1
One dinner show at 7:30 pm with 2 – 45 minute sets and a brief intermission.
Machiko Shimada – vocals, and Paul Kemp – piano & vocals
plus special guests vocalist opens in a new windowJenna Mammina and guitarist opens in a new windowRolf Sturm
Dinner Jazz – No Cover – $10 minimum per person – Full Taproom Menu
Reservations – per show – are recommended by calling 707-964-3400, or stop by in person at the Taproom, or click the ticket link below.
Their name is a little difficult to understand, but their music is instantly recognizable.
The duo calls themselves "Majide", pronounced MAH-JEE-DEH, which is a Japanese slang term meaning "Seriously!"
Featuring International vocal stylist Machiko Shimada (she can sing in five languages)
and veteran keyboard artist Paul Kemp, (55 years tickling the keys) Majide is anything but too serious.
Majide enjoys playing songs with memorable melodies and meaningful lyrics from the Great American Songbook.
Audiences enjoy such old favorites as "Pennies From Heaven", "On the Sunny Side of the Street", "As Time Goes By", "When I Fall in Love", and "That's All."
Enjoy the Happy Music of Majide!