The Sequoia Room
FRIDAY AND SATURDAY EVENINGS
etix is our only authorized ticket outlet
Mendocino Film Festival Dinner Screening of Holly Near: Singing for Our Lives
October 25, 2018
|
$75.00
Event Navigation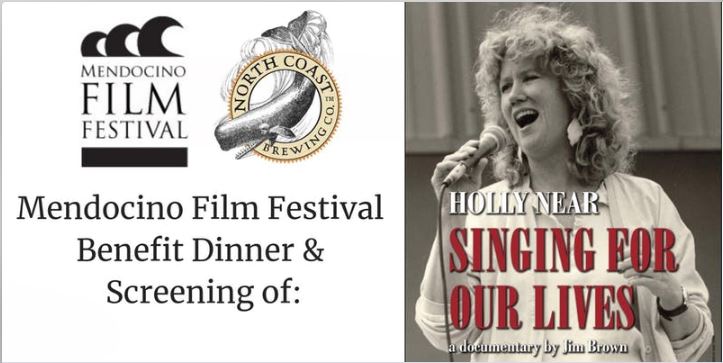 You are cordially invited to join us on Thursday, October 25, 6:30 pm, for an evening of North Coast Brewing Company beer & cuisine and a special film screening. The dinner and screening will take place at The Sequoia Room, home to North Coast Brewing Company's jazz performance series. All proceeds benefit the 14th Annual Mendocino Film Festival May 30 – June 2, 2019.
The $75 ticket includes a three-course prix fixe meal, paired with North Coast Brewing Company beers, and a screening of Holly Near: Singing for Our Lives, directed by Jim Brown. The screening will be hosted by the film's producer, Donna Korones. For the full prix fixe menu and to purchase tickets please visit Eventbrite.com or call the Mendocino Film Festival office at 707-937-0171.
Holly Near: Singing for Our Lives – Singer, songwriter, and social activist Holly Near has been performing for well over 50 years and in the process created the first soundtrack of the women's movement. From small-town Northern California to sold-out shows on some of the most iconic stages to million-person peace marches, Singing for Our Lives documents the story of the activist and her art. It also serves as an important testament to a time—a time of protest and coalition building, and the weaving of a multicultural consciousness always rooted in contemporary activism. Featuring Gloria Steinem, Jane Fonda, Ronnie Gilbert, and Tom Hayden with appearances by Pete Seeger, and others, this film elevates Near to her deserved status of iconic artist and activist, and speaks to anyone who believes in peace, justice, feminism, and humanity. Directed by Jim Brown.