The Sequoia Room
FRIDAY AND SATURDAY EVENINGS
etix is our only authorized ticket outlet
Akira Tana's Otonowa
Event Navigation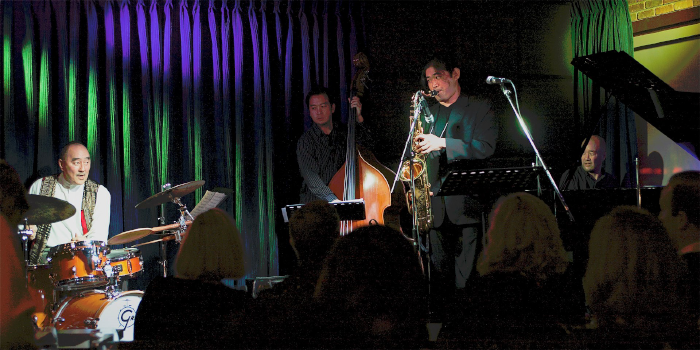 Akira Tana's Otonowa
Monday, March 16
One dinner show – 7:30 pm with two – 45 minute sets and a brief intermission
Art HIRAHARA, piano
Masaru KOGA, saxophones, flute, shakuhachi, percussion
Noriyuki Ken OKADA, bass
Akira TANA, drums
Special Guest – Takahiro Dai – trumpet, who was a student survivor of the tsunami disaster
This will be recorded for a potential live release!
Otonowa, or "Sound Circle" is comprised entirely of jazz interpretations of traditional Japanese folk melodies that date back as long as a century ago. The incorporation of these cultural elements is part of the long tradition of American jazz artists interpreting the American folk and popular songbook. In Otonowa's interpretations, traditional Japanese instruments are also employed, like the Shakuhachi (the traditional Japanese flute) and the fan drum, along with the piano, acoustic bass, and drum set.
What makes this group unique is that the members learned their craft here in the US and seek to illuminate songs of their Japanese ancestry in a uniquely American way. Otonowa has visited the Tohoku region for four consecutive years concertizing and conducting clinics for youth in communities still rebuilding after the 2011 Earthquake/Tsunami. This group was formed inspired by the events of that time and the survivors who escaped the horrific events that claimed over 20,000 lives.
Otonowa has returned to Japan five times in a self-funded, charitable outreach effort. Especially poignant of this group's appearance at the Sequoia Room is that Otsuchi, a city Otonowa visits, is the 'sister city' of Fort Bragg. It is the hope that the group's performance will inspire the city of Fort Bragg to continue their long standing relationship as sister cities.
The ticket sales will benefit the Otonowa project, with portions paying the musicians.
Akira Tana's OTONOWA / TOHOKU PROJECT
More about Akira
opens in a new windowWatch!