The Sequoia Room
FRIDAY AND SATURDAY EVENINGS
etix is our only authorized ticket outlet
Phil Robson/Jed Levy Quartet
September 14, 2019
|
$25.00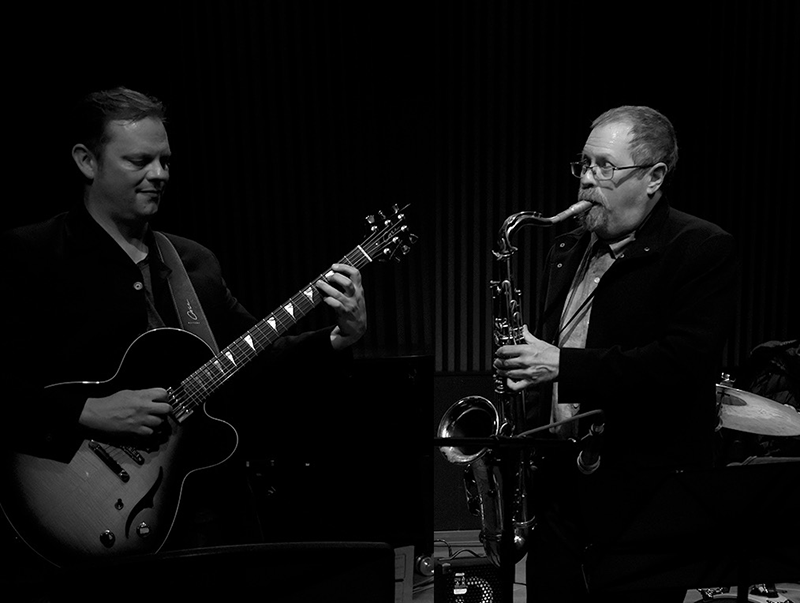 Phil Robson/Jed Levy Quartet
Saturday, September 14
7:30 pm for two 45-minute sets
Saxophonist Jed Levy & guitarist Phil Robson bring a new quartet to California, featuring drummer Billy Drummond and bassist Peter Slavov.
This ensemble was first assembled for a successful tour of Europe in November 2018, culminating in a stellar performance that received critical acclaim at the London Jazz Festival. Following their East Coast spring and summer concerts, including a riveting performance to a full house at the Birdland Theater, NY, the quartet makes their first outing to the West Coast. The original music written by Phil & Jed is innovative and contemporary whilst drawing on the vast tradition of jazz, across the whole spectrum of styles. The emphasis is on strong melodies and grooves and the tunes are vehicles for improvisation, allowing each musician to bring their experience and to make them their own. This will be the very best musical melting pot.
This was high-powered jazz, not by dint of frenetic pace, volume or assertiveness but by the beauty and coherence of the quartet sound that was at once polished but fresh and lively. That's a difficult poise to strike, even for musicians as able as these, yet for all that they were fully engaged, each seemed entirely in his element.
– Whitman Reviews @ Wakefield Jazz

Added to the warmth of his sound and excellent command of the instrument, Levy is an impressive package deserving wider international recognition. Phil Robson is already gaining wider international recognition, as witnessed by the admiring comments on his playing from Peter Bernstein and Wayne Krantz to be found on his website. His great fluidity and fleet inventiveness were, as ever, balm for the ears.
– London Jazz News Band's
Bio notes:
Saxophonist Jed Levy, a mainstay on the New York City jazz scene is no stranger to the West Coast jazz fans. His activities over the years included recordings with Charlie Hunter, The Headhunter and Mike Clark. Especially the record by Mark Clark "Blueprints in Jazz" Vol1 w/ Donald Harrison, Patrice Rushen, Christian McBride, Jed Levy and Christian Scott (Talking House Records) may ring a bell as it was made in the Bay Area. Jed has also performed and/or recorded with a wide and diverse variety of jazz music's finest, including: Jaki Byard, Don Patterson, Jack McDuff, Lonnie Smith, Don Friedman, Attila Zollar, The Village Vanguard Orchestra, Junior Mance, Shirley Scott, Eddie Henderson, Gene Bertoncini, Cedar Walton, Tom Harrell, Curtis Fuller, Peter Leitch, Bill Mobley Jazz Orchestra, Groove Holmes, and Larry Ridley. In addition to performing as a leader at such New York venues as JALC Dizzy's Club, Birdland and Mezzrow, his quartet was selected by Jazz at Lincoln Center to tour Central and South America for the U.S. Dept.of State in 2012. This same group played a 16-city concert tour of The People's Republic of China in 2015. This past year, Jed not only performed in the U.K. but toured as a leader in Italy, performing at festivals in Rome and Andria. He has recorded 10 CDs as a leader on the SteepleChase and Reservoir labels, which showcase mostly his original music. With well over 300 compositions to his name, Jed Levy's music has also been recorded by The Headhunters, Ron McClure, Eddie Henderson, Don Friedman, Don Falzone, Peter Leitch, Mike Clark, Giuseppe Bassi, and Daniela D'Ercole.
…blossoming eloquence of thinking and feeling …projects a strong sound and evidences awareness of various tenor heroes without stamping himself with the copycat label…
Down Beat
Originally from Derby, UK, Phil Robson has been based in New York, USA for the past few years. He is internationally regarded as a versatile and creative guitar player who appears in all kinds of diverse settings. Phil is also a celebrated composer and band leader. Over the years he has led or co-led many innovative ensembles, including award-winning Partisans or his fiery Organ Trio and many US/UK bands, feat. Dave Liebman, Mark Turner (Immeasurable Code Quintet), Billy Hart (trio w/James Genus) and more. As a side man he has worked with such artists as Barbra Streisand, Kenny Wheeler, Django Bates, Maceo Parker and many, many more. As a regular part of the NYC scene, Phil Robson has led bands featuring Donny McCaslin, James Genus, Adam Nussbaum, Dayna Stephens, Tom Rainey and many more. Regular member of Jeff Williams band featuring Duane Eubanks, John O Gallagher, he is also currently co-curating (with Christine Tobin) a series of themed jazz shows at the Irish Arts Center NYC called 'Tobin's Run on 51'.
Phil Robson is one of the best guitar players in the world today. His musical ideas flow continually and with a seamless logic. His technique is flawless and is in service to his fertile imagination. One of my favourites and a source of inspiration! Don't miss an opportunity to hear this modern giant!!
– Peter Bernstein
Billy Drummond learned jazz from an early age from his father, who was a drummer and a jazz enthusiast and whose record collection included many recordings of Miles Davis, Art Blakey, Max Roach, Buddy Rich and Elvin Jones. He played in bands from age eight and studied at Shenandoah College and Conservatory of Music. He moved to New York at the behest of Al Foster in 1986 and shortly thereafter joined the Blue Note band, Out of the Blue, with whom he recorded their last album. He joined the Horace Silver sextet, with whom he toured extensively, before joining Sonny Rollins, with whom he toured for three years. He is a long-time member of Carla Bley's Lost Chords Quartet, Sheila Jordan's Quartet, and the Steve Kuhn Trio. He also leads a New York-based band called Freedom of Ideas. In addition to touring he is Professor of Jazz Drums at the Juilliard School and New York University. A sideman on over 300 records, Drummond has played and recorded with Nat Adderley, Ralph Moore (1989 and subsequently), Buster Williams (1990–93), Charles Tolliver (1991), Lew Tabackin and Toshiko Akiyoshi, Hank Jones (1991), James Moody (early 1990s), Sonny Rollins, Andy LaVerne (1994), Lee Konitz (1995), Dave Stryker (1996), George Colligan (1997), Ted Rosenthal, Bruce Barth, Andrew Hill (from 1997–2000), Larry Willis (2006 to the present), Toots Thielmans, Freddie Hubbard (mid-1990s), Chris Potter, Eddie Gómez, Stanley Cowell, Javon Jackson, and Sheila Jordan (1990s to present). Influences include Tony Williams, Max Roach, Philly Joe Jones, Al Foster, Jack DeJohnette, and Billy Hart.
Peter Slavov is a New York-based Bulgarian double bassist, composer, session musician, arranger and educator. Born to the family of legendary Bulgarian drummer Peter Slavov Sr., Peter (sometimes credited as Petar) has been playing bass since the age of twelve. After graduating from Berklee in 2002, Peter Slavov has performed and/or recorded with world-renowned artists, including Quincy Jones, George Garzone, Danilo Perez, Chucho Valdes, Kevin Mahogany, Simon Shaheen and Elio Villafranca. Peter is currently touring the world with Grammy award-winning saxophonist Joe Lovano's Classic Quartet, and his Us Five band. In 2012, Us Five received the Award for Best Small Group by the Jazz Journalists Association of America. Peter Slavov is also featured on the most recent album by Joe Lovano and Us Five – "Cross Culture", which was released on the historic Blue Note label. Peter has performed with legendary producer/arranger/composer Quincy Jones' Global Gumbo Project. As part of the Alfredo Rodriguez Trio he was nominated for a Grammy in 2015 which Quincy Jones produced.
Watch more here.