The Sequoia Room
FRIDAY AND SATURDAY EVENINGS
etix is our only authorized ticket outlet
Snaps for Sinners
Event Navigation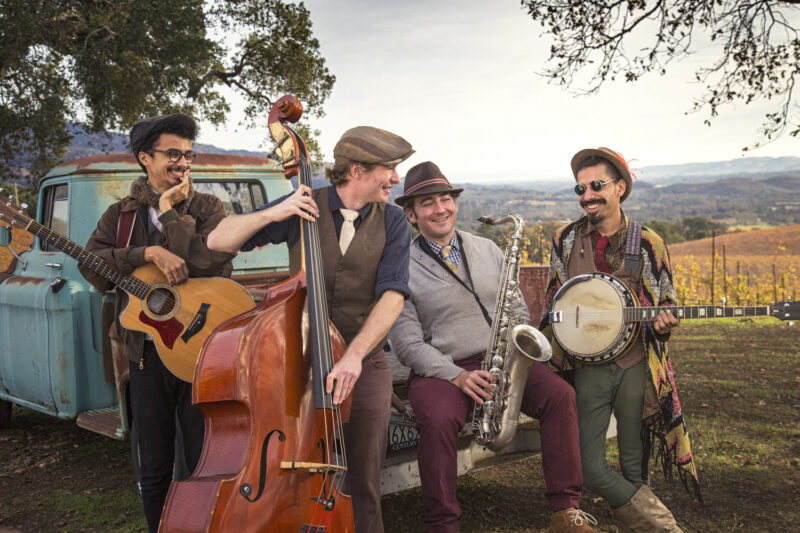 Snaps For Sinners
Friday, March 14 at 7:30 pm
Doors open at 6:15
STEAMY ROCKABILLY-SWING SERVED HOT & SAUCY
Snaps for Sinners (formerly Buck Thrifty) is a saucy swing ensemble hellbent on making people dance and have a good time, while also delivering a powerful progressive message that inspires empathy and altruism. With influences ranging from traditional Jazz to Folk-Punk to Country, Snaps for Sinners is dedicated to creating an all-inclusive experience through the blending of multicultural arts.
Snaps for Sinners is:
Michael Fierro:
Michael is a multi-instrumentalist, and the lead singer, songwriter and sound engineer for Snaps for Sinners. His songwriting captures the underrepresented aspects of human nature, from our limited self-awareness to our daydreams, and from how we can be crippled by our accomplishments to the ways we can learn and grow from our faults. Michael's poetic words, coupled with music inspired by genre transcending bands such as Gogol Bordello and Modest Mouse, are sung with sultry smokiness and gritty intensity.
Corwin Zekley (not performing this particular show):
Quickly gaining recognition as one of the fieriest fiddlers of their generation, Corwin performs and composes in a multiplicity of styles ranging from Hot Swing to Celtic to Blues and beyond. Corwin was born into Mastery— they had a violin in their hands before they could walk or talk, and the beautiful redwoods of Northern California soaked rich musical heritage into Corwin's deep roots. Their 2018 graduation from the Berklee College of Music with a degree in songwriting only furthered their relentless growth into the virtuoso they are today. Corwin has played over a thousand shows, performs with and manages Snaps for Sinners, and uses the ineffability of music as both a completion of self and as a vehicle for expressing what words cannot.
Jay Drapes:
On Jay's first day of college they got into an argument with the dean of the political science program over constitutional theory. They promptly dropped the major and decided decided that music was the only way to impact real social change. Now, nine years later, Jay has become a manager, promoter, and teacher, as well as a self-taught nationally performing musician with their brain child, Snaps for Sinners. Whether with Bass, Guitar, Accordion, Trumpet, or the simple power of words, Jay's passion and drive is for calling people in, rather than calling them out, and uses the co-creation of music on their travels as a means to bridge our country's social and political divides.
Since Corwin will miss this show, the band will expand to fill his palpable void adding keyboards and sax:
Michael Fortunato:
Michael Fortunato is a woodwind player, recording artist, and professional sideman. Proficient on nearly all woodwinds (clarinets, flutes, saxophones, auxiliary woodwinds, double reeds except for bassoon), he has played in musical settings ranging from nationally- and regionally-touring bands at major clubs and festivals, to professional pit orchestras, dance bands, jazz ensembles, and experimental and improvisational groups — playing and improvising across dozens of diverse musical styles. He is an experienced recording artist, with five internationally-selling albums on Alanna Records, and dozens of other recording credits with independent artists across the United States. He currently plays with a variety of ensembles, including The Billie Holiday Project (CA/national), The Syllables (CA), Snaps for Sinners (MO, national), The Alex Meixner Band (FL/national), Midnight Express (TX), X Confidence (CA), and more. He may be best known for his eponymous, internationally-selling recordings with Michael Fortunato and the New Stanton Band on Alanna Records; and also can be heard on albums with Buck Thrifty, The Syllables, The Alex Meixner Band, Twin Soles, Star Blue Band, and Christopher Alexander.
Nate Dittle
A star pupil of the esteemed jazz program at Sonoma County's SSU, Nate Dittle graduated with distinctions around his capability as a player of all things keys. Whether it be sonatas on a grand piano, Herbie Hancock headhunter tunes on a funky jazz organ, or traditional World musics on accordion, rarely has Northern California seen such a young piano pioneer so masterfully slip from genre to genre. His talents have landed him seats in over a dozen professional bands as well as taken him overseas, and it is a great honor to have him join us on stage with Snaps for Sinners.