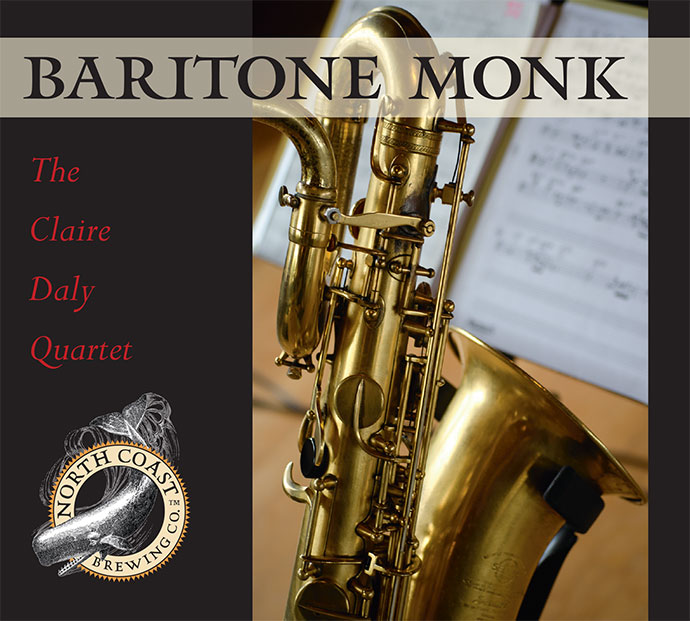 Baritone Monk ~ The Claire Daly Quartet
Released by North Coast Brewing in October of 2012, Baritone Monk features the Claire Daly Quartet, with Claire Daly on baritone saxophone, flute, and vocals; Steve Hudson on piano; Peter Grant on drums; and Mary Ann McSweeney on bass.
Produced by North Coast Brewing's Doug Moody, the project was entirely underwritten by North Coast Brewing. 100% of sales proceeds from the CD are donated to the Thelonious Monk Institute of Jazz to further international Jazz education programs.
This is the second benefit recording of Thelonious Monk music produced by North Coast Brewing. Listen to audio samples from the first recording, The Brother Thelonious Quintet.
"Claire Daly's marvelous tribute to Monk's music reminds us of that special affinity, of Monk's penchant for the lower frequencies and the big, full sound he expected from his ensemble. Monk's music is notoriously difficult, though you wouldn't know it from this recording. Daly's superb quartet combines a mastery of Monk's less-recorded repertoire with the casual joy of a jam session. Pianist Steve Hudson avoids Monkish cliches, displaying his own unique style to great effect. Bassist Mary Ann McSweeney plays with a profound sense of melody, swing, and harmonic imagination, and unlike so many young bass players she is not afraid to explore the instrument's lower register. Peter Grant, a long-time Daly collaborator, gives the band its driving pulse but with a subtlety that allows all voices to be heard. Finally, there is Claire Daly, whose breadth of styles, enormous tone, and distinctive phrasing place her among the very best of contemporary baritone players."
From the liner notes by Robin D. G. Kelley, author of Thelonious Monk: The Life and Times of an American Original (2009)
Get Your Thelonious Gear!