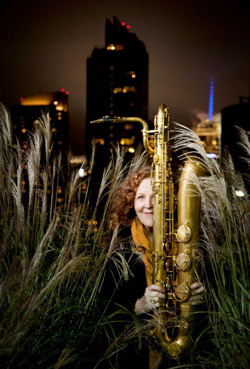 On Saturday, August 9, New York baritone saxophonist Claire Daly will perform with Bay Area musicians Larry Vuckovich, piano, John Wiitala, bass and Hamir Atwal, drums. Daly is known for her swinging, sophisticated style, supple tone and, as a composer, her unconventional harmonies. She is one of today's most compelling and creative voices on the baritone sax. The Claire Daly Quartet's album, Baritone Monk, produced by North Coast Brewing Company, made JazzWeek's Chart of the 100 Top Albums of 2013.
Erie Times-News Jazz writer John Chacona sings Claire Daly's praises. "[She] is cheerful, with a delicious sense of humor and a heart as big as her horn: the booting, swaggering baritone saxophone. Her rhythmically propulsive, harmonically aware and joyful approach embraces the core principles of jazz. The woman can play."
Vuckovich, Wiitala and Atwal performed at the Sequoia Room in May, 2014 to great acclaim. This quartet of superb musicians will improvise on Jazz standards, including some Thelonious Monk tunes, and pepper the evening with Jazz originals in what promises to be a memorable and exciting evening.
This Dinner Jazz performance on Saturday, August 9 is at North Coast Brewing Company's Sequoia Room in the Brewery Taproom at 444 N Main Street, corner of Main & Pine, in Fort Bragg.
Dinner seatings are at 5:30 and 7:30 with shows at 6 and 8 pm. Reservations are recommended at 707 964-3400.