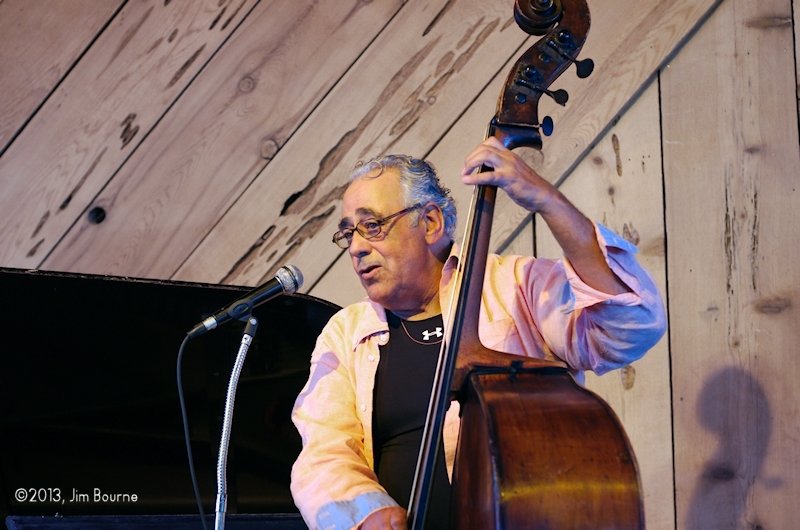 The Frank Tusa Quartet takes the stage at North Coast Brewing's Sequoia Room on Saturday, November 15, performing standards from the Great American Songbook and original compositions by members of the band. The Quartet includes Frank on bass, Keith Saunders on piano, Mel Martin on winds and Vince Lateano on drums. All four players are active Bay Area musicians who have performed and recorded with jazz legends from Ella Fitzgerald to Horace Silver. The November 15 performance will be an example of jazz at its best: great music played by seasoned professionals with a passion for collaboration and improvisation.
Frank Tusa has been an active musician for over 30 years. He spent 20 of those years in New York, working through the ranks as a performer, educator, composer and arranger. Some of the musicians he performed and recorded with are Stan Getz, Benny Carter, Art Blakey, Chet Baker, Joe Henderson, Shelly Manne, Herb Ellis, Barney Kessel and Joe Williams. Frank worked in the New York City schools teaching the basic elements and skills of music, including how to listen and express ideas through improvisation. Since moving to the Bay Area, Frank has been in demand as a bass player for his solid rhythmic anchoring and eloquent melodic lines. He has taught at Stanford and San Jose State University, and was a recipient of a National Endowment of the Arts Fellowship Grant.
Pianist Keith Saunders appeared in the Sequoia Room last August with the Pelt-Merolla Quartet. He spent his formative years in Los Angeles where he studied with vibraphonist Charlie Shoemake and Jazz icon Horace Silver. He worked with Eddie Harris, Roy McCurdy and Bill Watrous and recorded and arranged with Dick Berk's Jazz Adoption Agency. In 1984 Keith moved to New York where he worked and recorded with Richie Cole, Joe Lovano, Hank Crawford and Ralph Lalama, amongst others. He became the leader of The HardBop Quintet in 1991, writing and arranging music for four CDs released by the group. In 2010 he relocated to the Bay Area where he is a mainstay on the Jazz scene and a piano teacher for all levels and ages.
Mel Martin, wind player, soloist, composer, arranger, educator and improviser, is one of the most versatile and innovative musicians in the Bay Area. Originally from Sacramento, and greatly influenced by his sessions with Wes Montgomery, Mel moved to San Francisco where performed with John Handy, Tom Harrell and Eddie Henderson. During the mid-70s he formed the award winning group Listen and in the mid-80s he founded the well-known and still thriving group Bebop and Beyond. Mel has performed with numerous legendary musicians including Betty Carter, Santana, Mongo Santamaria, Boz Scaggs, Cal Tjader, Vince Guaraldi, Ella Fitzgerald, B. B. King, James Brown and Frank Sinatra. He has taught jazz saxophone at San Jose and Sonoma State universities, been a staff member of the Stanford Jazz Workshop, conducted workshops and clinics at schools throughout the U.S. and maintains a large roster of private students. He is the recipient of four National Endowment of the Arts grants.
Master jazz drummer Vince Lateano has toured with numerous musicians over the years including Cal Tjader, Chet Baker, Woody Shaw, Zoot Sims, Woody Herman, Vince Guaraldi and Stan Getz. He joined Cal Tjader's band in 1978, drummed on six of Tjader's albums, and performed with the band until Tjader died in 1982. According to drummer Mike Clark, Vince "…is truly one of the greatest big band drummers in the world. He plays great Latin and his jazz drumming is killin'. Everyone who comes to the Bay Area knows he's the cat to call." Vince has his own trio and quartet and can be found at the Monterey Jazz Festival education program during the summer.
This Dinner Jazz performance is in North Coast Brewing Company's Sequoia Room at the Brewery Taproom at 444 N Main Street, corner of Main & Pine, in Fort Bragg. Dinner seatings begin at 5:00 for the 6:00 pm show and 7:30 for the 8:15 pm show. Reservations are recommended. 707 964-1286 from 10:00 am to 4:00 pm and 707 964-3400 after 4:00pm – For more information, go to North Coast's Jazz Calendar https://northcoastbrewing.com/jazz_schedule.php