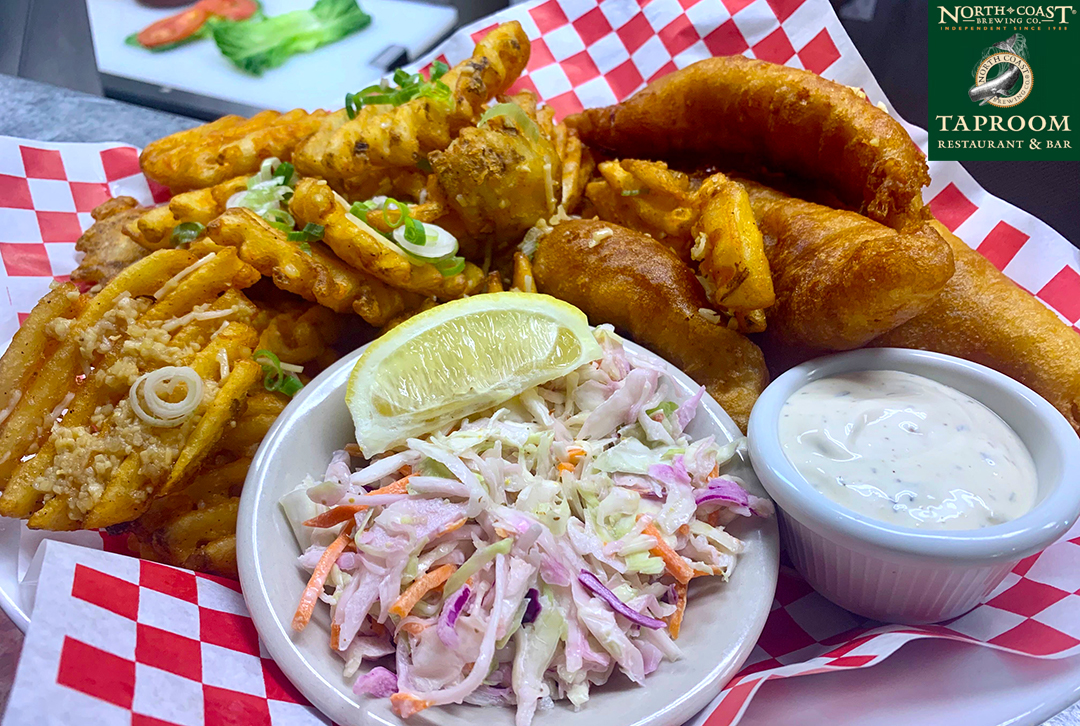 Open 11:30 a.m. to 8 p.m. Thursday through Monday
Closed Tuesdays and Wednesdays
Limited Indoor seating now available in addition to our big top canopy with cozy heaters. No reservations – First come, first served.
To-Go Phone orders with free Curbside pick-up.
707-964-3400 for orders and credit card payment.
Please know that your safety and the safety of our staff are top priorities: no parties over 6, each group should be of the same stable social bubble, everyone is required to wear a mask unless eating, our tables are all spaced 6′ apart, and we are practicing heightened sanitation procedures in compliance with current County and State requirements.
Starters
Starters

Shrimp Ceviche

Shrimp, lime juice, tomato, onion, cilantro, jalapeño, house made chips and guacamole

North Coast Nachos

House made chips, melted cheese, black beans, guacamole, sour cream and Pico de Gallo

Garlic Waffle Fries

Criss-cut fries tossed in garlic butter, parmesan and green onions

Chili Cheese Fries

Crispy pub fries covered with melted cheddar/jack cheese and topped with our Route 66 chili, sour cream and green onions

Deep Fried Brussels Sprouts

Brussels sprouts flash fried and tossed in an anchovy vinaigrette

North Coast Clam Chowder

Our Award Winning New England style clam chowder

Route 66 Chili

Our award winning pork chili made with Laguna Baja Mexican Style Dark Lager

House Side Salad

Lettuce, carrots, jicama, onion, grape tomato, lemon vinaigrette

Caesar Side Salad

Romaine lettuce, croutons, parmesan cheese and Caesar dressing
Pub Fare
Pub Fare

Fish & Chips

Local rock cod, Scrimshaw beer batter, NCBC Old 38 tartar sauce, coleslaw & pub fries.

Sub wild caught pacific shrimp for $2

Brewhouse Burger

John Ford beef, Red Seal onion bacon jam, lettuce, tomato, and red onions on a pretzel bun, served with a pickle and pub fries

Sub a plant based Beyond Burger patty for $1

Carolina Pulled Pork Sandwich

Roundman's smoked Boston Butt, house made tangy Piedmont-style sauce & coleslaw, served with pub fries.

Southwest Chicken Sandwich

Grilled chicken breast, seared poblano pepper, bacon, pepper jack cheese and chipotle aioli on a Fort Bragg Sourdough roll, served with black bean salsa and chips.

Black Bean Burger

House made vegetarian black bean patty, lettuce, tomato, red onion, sprouts and chipotle aioli on a brioche bun, served with pickle spear and pub fries

Shrimp Po'Boy

Wild caught pacific shrimp fried with Scrimshaw beer batter and served with Old 38 tartar sauce, lettuce and tomato on a Fort Bragg Sourdough roll with pub fries.

BBQ Chicken Salad

Roundman's smoked chicken breast, lettuce, jicama, cherry tomatoes, cheddar/jack cheese, red onion and tortilla strips tossed in ranch dressing

Grilled Caesar with Chicken

Grilled romaine lettuce, chicken breast, bacon, croutons, and parmesan cheese with Caesar dressing
North Coast Brewing Company is a B Corporation striving to create a zero waste environment, dedicated to making a cleaner environment and a better future for all inhabitants of our planet.
Thank you for your patronage!