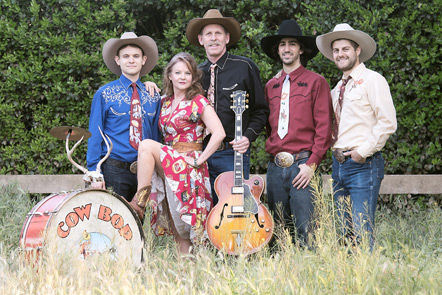 What happens when you mix western swing, blues, honky tonk, bebop and flat out jazz with sultry vocals, thrilling riffs, sassy delivery and gutsy irreverence? Well, pardner…you get Cow Bop, the genre bending cowboy jazz band that's coming to North Coast Brewing Company's Sequoia Room on Wednesday, March 12 for two rollickin' and swingin' performances.
Led by internationally acclaimed guitarist Bruce Forman, the five piece band features the smoky, barroom vocals of Pinto Pammy, multi-instrumentalist, David Wise on sax and trumpet, and a rhythm section of Alex Frank on bass and Jake Reed on drums that is "as swingin' and rockin' as a rodeo bronc but as sure-footed as a prized pack mule."
Bruce Forman has been an important part of the international jazz scene for more than three decades. Featured as a leader and a sideman at festivals and concert venues throughout the world, his numerous recording and performing credits include the likes of Bobby Hutcherson, Ray Brown, Freddie Hubbard, Joe Henderson, Richie Cole and countless others. His guitar work is featured throughout Clint Eastwood's Academy Award winning film, Million Dollar Baby. He is a faculty member at USC's Thorton School of Music and a long standing member of the Monterey Jazz Festival educational programs.
The Cow Bop evening on March 12 will include two dinner performances in the Sequoia Room at the Brewery Taproom. Pre-paid reservations are required and can be made at 707 964-1286 between 10 am and 5 pm seven days a week. The first dinner seating is at 5:30 with the music beginning at 6:30 pm. The second dinner seating is at 8:00 with the performance at 9 pm. A special Jazz Club Prix-Fixe Dinner with dinner salad and a choice of entrees** will be offered to guests; dessert, beverage and tip are not included.
Cow Bop's performance promises to bring joy, frolic and excitement to the waning days of winter. The band's accolades reflect its impact: "It's hot, jazzy and has a drawl!" said the SF Chronicle. "They put some scoobie-doo in their wahoo!" said Wylie Gustafson of Wylie & The Wild West.
Get in on the fun. North Coast's Brewery Taproom is located at 444 N Main, on the corner of Main and Pine Streets in Fort Bragg. "Cow Bop's stagecoach is a leavin'! Be under it!" Gabby Hayes. Pre-paid reservations at 707 964-1286 between 10 am and 5 pm seven days a week – ages 21 and up only
** Jazz Club Prix-Fixe Dinner Entrees North Coast Classic Fish & Chips

Carolina BBQ – Country Style Pit Cooked Pulled Pork

BBQ Chicken Breast with Jambalaya & coleslaw- Cajun Style

Lasagna Florentine – Vegetarian

Seafood Gumbo – New Orleans Style

Meatloaf with Mashed Potatoes and Redeye Gravy