Detroit Free Press
By Kathy Flanigan
Milwaukee Journal Sentinel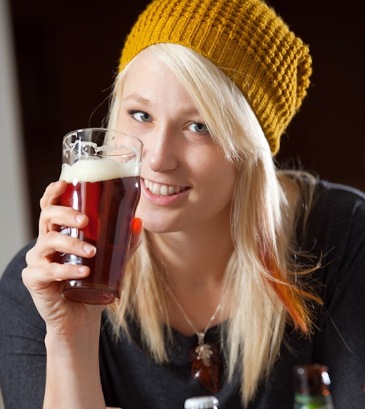 Photo of Melissa Modlinski of Paramount Merchants and a Rep for North Coast Brewing in Chicago.
Meagan O'Brien sipped her beer and bit her tongue as the man next to her tried to describe to his date some of the 60 craft beers at a Milwaukee bar. Turns out, he didn't know his ales from his hefeweizens. "She kept asking questions, and this guy just kept making up stuff," O'Brien said.
O'Brien, 31, could have set him straight easily. A sales representative for Tallgrass, a craft beer brewed in Kansas, she's also a certified cicerone – kind of a sudsy version of a sommelier.
Although O'Brien didn't correct the man at the bar, she had the satisfaction of knowing that the men-know-beer/women-prefer-wine cliche could be on its way out, thanks to a growing wave of interest in craft beer among women.
Groups for beer-drinking women are springing up nationwide, including an international club called Barley's Angels. Craft beer sales in general have doubled in the past six years and are set to triple by 2017, according to BeerPulse.com. Many of those customers are women between 25 and 34 who appreciate the nuanced flavors of small-batch beers. According to a 2012 Gallup poll, beer has been the favorite beverage among drinkers since 1985. It typically held second place as the adult beverage of choice for females, but recently, beer has edged out wine among women ages 18 to 34. "I like craft beer a lot, and this seemed like a good opportunity to meet with other people who like beer," said Sarah Booth, 29, during a Barley's Angels class about pairing beers with food. "It's just what I like to drink. It feels more personal drinking something that's brewed in a small batch."
Julia Herz, the craft beer program director for the Craft Brewers Association in Colorado, has her own theories about why women are moving toward craft beer, defined as the product of a brewery with annual output of 6 million barrels of beer or fewer. Women in their 20s and 30s are in "the sweet spot" for craft beer consumption, Herz said. "They're the same quality-minded people who are buying artisanal cheeses and fair trade coffees and who don't mind waiting for a bartender to shake a craft cocktail. Craft beer is an affordable way to buy artisanal. The cost of a bottle of beer, usually less than a bottle wine, affords aficionados a chance to sample several craft beer flavors for a simple trade up in price compared to wine," Herz said.
Image also factors into the reason that woman are gravitating to beer. "This is bold for me to say, but beer in the past has been marketed as a gender-specific beverage to men," Herz said. While some macro beer producers use women in tank tops to sell beer, the 2,300 craft brewers in the U.S. generally market in a way that's not gender specific.
If craft beer producers have learned to make beer a genderless beverage, bartenders are still on a learning curve. Beer expert O'Brien recalls the time she ordered a $12 glass of Angry Monk. The bartender asked what she thought of it, and she mentioned that it seemed a little sour – a term meaning that the beer would benefit from more time in the bottle to mature the taste. He offered to add soda water.
Lucy Saunders, author of The Best of American Beer and Food: Pairing & Cooking with Craft Beer and beercook.com says those bartenders are missing the boat by underestimating a woman's palate and knowledge of beer.
Still, beer "is a little bit of a boys' club" Rachel Reiman said during a Barley's Angels home brewing session in Milwaukee. She notices that whenever she and her husband tour a brewery and mention that they're home brewers, "they immediately start talking to my husband."