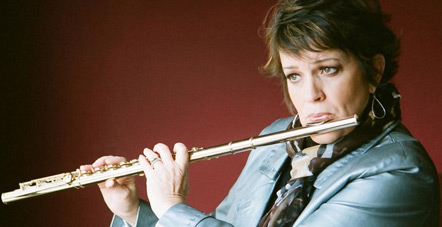 Jazz at the Sequoia Room has presented many inspiring jazz musicians throughout 2014 and the month of December is no exception. Holly Hofmann, acknowledged as an artist with one of the most exquisite flute tones in jazz, and her husband Mike Wofford, described by DownBeat as "…one of the most outstanding pianists of our time," will perform in North Coast Brewing's Sequoia Room on Saturday, December 13. Harvey Siders wrote in JazzTimes, "Hofmann and Wofford provide melody, harmony, rhythm and improvisation so completely that any listener would never bemoan the lack of bass and drums." From Brazilian to bebop and blues, Holly and Mike take a joyful approach to jazz and their musical empathy draws in the audience. Expect to hear everything from Cole Porter to Thelonious Monk, with an occasional original in each set. Expect to have a terrific evening!
Although Holly and Mike met in San Diego in the late '80s and have been performing and recording together for 25 years, their pathways to jazz were very different. After attending high school at the prestigious Interlochen Arts Academy in Michigan, Holly studied with the Cleveland Orchestra's principal flutist Maurice Sharp. She went on to earn a bachelor's in music from the Cleveland Institute of Music and a graduate degree from the University of Northern Colorado. Because she had an interest in jazz, Holly would travel to New York on her summer breaks from school to study with Frank Wess and Slide Hampton. She sat in on jam sessions and learned the standard jazz repertoire. Her New York mentors encouraged her to pursue a career in jazz flute.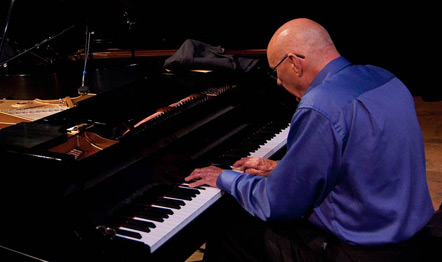 Mike began studying piano at age seven. Still a teenager, he moved to Los Angeles and entered the jazz scene in the early '60s. His first professional performances were with the bands of Teddy Edwards, Art Pepper, Red Norvo, Chet Baker, Bud Shank, Zoot Sims, Shorty Rogers and Maynard Ferguson; additionally, he was singer June Christy's accompanist. In the late '60s Mike was a free-lance session player for motion pictures and TV soundtracks, the staff pianist on "The Bill Cosby Show," and an arranger for Capitol Records. During this time Mike also performed and recorded with stars from the pop world including Roger McGuinn, John Lennon, The Jackson 5 and Joan Baez. In '67 he began a long association with drummer Shelly Manne, playing, recording and touring with Manne's various groups until '82. He was pianist and music director for Sarah Vaughn on her international tours, and performed with Harry "Sweets" Edison, Eddie "Lockjaw" Davis, Zoot Sims and the Benny Carter Orchestra on tours to Japan.
In the late '80s Holly moved to San Diego and began working with Mike, who was the pianist on her first recording. She also performed with pianist Bill Cunliffe, forming a partnership that led to world-wide tours of festival and chamber venues. They recorded two duet albums and Live at Birdland with bassist Ray Brown and drummer Victor Lewis. She started working regularly with Ray Brown at New York's Village Vanguard in the mid '90s and later toured throughout the USA and Europe with Brown's trio. In the late 80s Mike was house pianist for San Diego's two national jazz clubs, a frequent performer with Art Farmer, Charlie Haden, Barney Kessel and Ray Brown, and pianist and music director for Ella Fitzgerald until her retirement in '92. He became one of the most in-demand pianists in jazz, playing and recording with Bobby Watson, Jeff Hamilton, Charles McPherson, Joe Henderson, Kevin Mahogany, James Moody, Phil Woods, and Kenny Burrell amongst others.
Holly and Mike married in 2000 and the two toured in a quartet with Brown and Lewis. Mike has appeared on over 200 recordings as a sideman and continues to record, now primarily as a leader. He has his own trio and is co-leader in duos, quartets and quintets with Holly. He has also arranged the music of Antonio Carlos Jobim and Ellington/Strayhorn for their string orchestra performances. Holly has twelve recordings as a leader in the duo or quartet setting and continues to perform around the globe. She is involved in jazz booking and consults on several jazz parties and festivals including the Oregon Coast Jazz Party in Newport and Jazz in North Park in San Diego.
This Dinner Jazz performance on Saturday, December 13 is in North Coast Brewing Company's Sequoia Room at the Brewery Taproom at 444 N Main Street, corner of Main & Pine, in Fort Bragg. Dinner seatings begin at 5:00 for the 6:00 pm show and 7:30 for the 8:15 pm show. Reservations are recommended. 707 964-1286 from 10:00 am to 4:00 pm and 707 964-3400 after 4:00pm