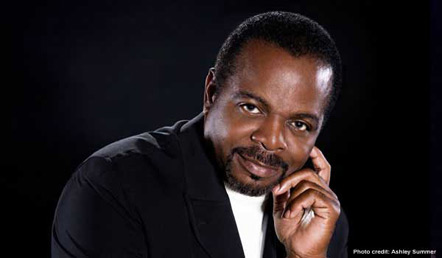 Vocalist Nicolas Bearde & Trio will perform at North Coast Brewing's Sequoia Room on Saturday, October 4. From his Nashville Tennessee roots to his participation in the thriving San Francisco music scene of the 1980s and 90s, Bearde's approach and delivery of originals, standards and blues is soulful, improvisational and swinging. Called the "buttery baritone" for his smooth, warm voice and penchant for "romantic jazz," Bearde is a seasoned showman whose engaging rapport captures and draws the audience into his performance.
As a young man, Bearde spent several years working the R&B circuit in Los Angeles before putting down roots in the San Francisco Bay Area and developing his jazz chops. At the same time he became part of "Jukebox," a radio play starring Danny Glover. At Glover's recommendation he began studying acting and eventually performed in plays, film and television. Music continued to be Bearde's dominant interest, and he joined Molly Holm and her eight member group "Jazzmouth," known for vocal improvisations and close harmonizing.
Through the relationship with Holm, Bearde met Bobby McFerrin and in 1986 became part of the ground-breaking a cappella group known as "Voicestra." In the mid-1990s, Bearde and other members of Voicestra started a smaller group called SoVoSò that continued the improvisational tradition of Voicestra, but added more gospel, Latin and R&B elements. SoVoSò won awards and honors, including First Place at the a cappella summit CASA and nominations for Best Group, Best Album and Best Lead Vocalist for Bearde.
Bearde started Right Groove Records in 1997 to launch his solo projects, and has produced four albums on that label over the last 16 years. All of his albums reflect his musical vision, vocal dexterity and diverse musical influences. "…Nicolas Bearde straddles the line between classic Jazz and old school R&B. Both his delivery and his penchant for mixing and matching styles call to mind the alternately elegant and jaunty performances of Lou Rawls." (Ross Boissoneau, Jazziz Magazine)
In addition to maintaining his busy sideline as an actor and voice-over artist, Bearde continues to write songs and to produce and perform at Jazz festivals around the world. He presents master classes in performance craft and improvisation and has been a faculty member of the Jazz School in Berkeley California. He is a national panelist for Popular Voice for the Young Arts Program in Miami Florida and a resident instructor for Jazz Camp West in Northern California.
Bearde has assembled a group of accomplished musicians for this performance: Glen Pearson, piano, Peter Barshay, bass & Leon Joyce, Jr, drums. The performance will include a variety of songs that reflect Bearde's diverse influences, such as vibrant, up-tempo standards, romantic Brazilian tunes and personalized renditions of jazz ballads. Put succinctly, "…Bearde is the embodiment of taking that old school sound and making it new cool…" (Brent Black, criticaljazz.com)
This Dinner Jazz performance is in North Coast Brewing Company's Sequoia Room at the Brewery Taproom at 444 N Main Street, corner of Main & Pine, in Fort Bragg. Dinner seatings begin at 5:00 for the 6:00 pm show and 7:30 for the 8:00 pm show. Reservations are recommended. 707 964-1286 from 10:00 am to 4:00 pm and 707 964-3400 after 4:00 pm – For more information, go to North Coast's Jazz Calendar.