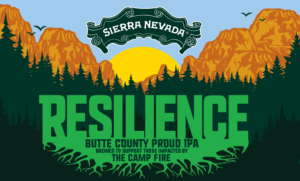 North Coast Brewing Company is proud to announce that it is brewing Sierra Nevada's Resilience IPA to support Camp Fire relief efforts. One hundred percent of Resilience IPA sales will be donated to the Camp Fire Relief Fund to help Butte County rebuild its community.
"We commend Sierra Nevada for spearheading this effort and bringing the brewing community together for such a worthy cause," said North Coast Brewing Company Senior Vice President, Doug Moody. "It's a difficult time for our home state of California, and North Coast Brewing is dedicated to helping affected communities rebuild."
The North Coast Brewing Co. Taproom, Restaurant & Bar will have Resilience IPA on tap soon. Please send any questions to info@northcoastbrewing.com.