Gene Parsons and David Hayes, long-time members of the Mendocino Coast music community and well-known sidemen in the Rock world in its heyday, will perform at North Coast Brewing's Sequoia Room on Saturday, October 25. Gene & David share a friendship that goes back many years, a life-long love of music, and a joy in playing and performing. The October 25 performance will feature original songs by both musicians. David will be on vocals, guitar, bass fiddle and other exotic and not so exotic noise making appliances. Gene will be on vocals, harmonica and anything with a string.
A member of the Van Morrison Band for most of the last four decades, David is also a veteran of Jesse Colin Young's band and Southside Johnny and the Asbury Jukes. He has circled the globe multiple times on tour, has over 250 recordings to his credit, and has performed with dozens of well-known musicians, including Ray Charles, Tom Waits and John Lee Hooker. David has released seven full-length albums of original songs and his own oil paintings and pencil sketches are on his album covers.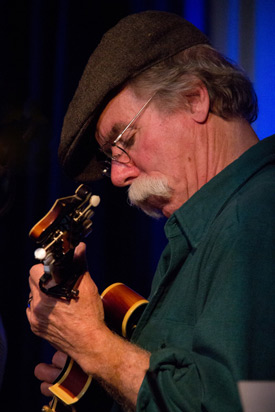 A multi-instrumentalist with the Byrds (originally hired as the drummer) and the Flying Burrito Brothers, Gene is a veteran of hundreds of stage and studio performances, including recordings by Arlo Guthrie, The Everly Brothers and Randy Newman. Gene is also a master machinist and the creative inventor of the Stingbender, a popular guitar customization system. He thrives on "mixing metal with music," and works out of his own machine shop, making everything from custom Stringbenders to steam engines. He has released three full length albums under his own name and recently served as Artist-In-Residence for Mendocino College.
This Dinner Music performance is in North Coast Brewing Company's Sequoia Room at the Brewery Taproom at 444 N Main Street, corner of Main & Pine, in Fort Bragg. Dinner seatings begin at 5:00 for the 6:00 pm show and 7:30 for the 8:15 pm show. Reservations are recommended. 707 964-1286 from 10:00 am to 4:00 pm and 707 964-3400 after 4:00 pm – For more information, go to North Coast's Jazz Calendar.