We found this photo on the Old Rasputin Facebook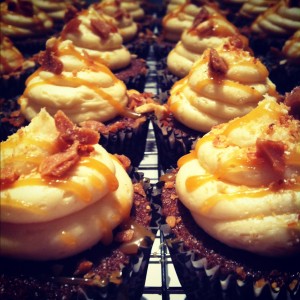 page and searched for the baker and photographer, Kristina Chrzanowski. After you read the recipes below, you'll see that Kristina is an imaginative master baker with an appreciation for North Coast brews. We are grateful that she has shared her recipes with us and hope a few of you will bake up these cupcakes. They look mouth wateringly decadent and delicious!!
Old Rasputin Russian Imperial Stout Chocolate Cupcakes
Ingredients:
1 cup unsalted butter (room temperature)
2½ cups sugar
2 (whole) large eggs
1 egg white
1 cup all-purpose flour
1 cup cake flour
Generous ½ cup unsweetened cocoa powder
½ tablespoon baking powder
½ teaspoon salt
¾ cup Old Rasputin Russian Imperial Stout
¼ cup buttermilk
1½ teaspoon vanilla
½ cup sour cream
Preheat oven to 350 degrees | Place on lower rack
Makes 24 cupcakes
Cream butter with an electric mixer on medium speed. Add sugar, ½ cup at a time, until fluffy. Add eggs and egg white, one at a time, until fully incorporated.
In a separate bowl, combine flours, cocoa powder, baking powder, and salt. Sift and set aside.
In a third bowl, combine stout, vanilla, and buttermilk and set aside.
Add half of the flour mixture to the butter mixture; mix until fully incorporated. Blend in half of the liquid mixture. Repeat with remaining flour mixture, then remaining liquid mixture, scraping the sides of the bowl as needed. Gently fold in sour cream.
Fill cups ¾ full. Bake 20 to 25 minutes, until they bounce back when touched.
Easy Caramel Sauce (for drizzle and frosting)
Ingredients:
24 wrapped vanilla caramels
½ cup heavy cream
1 tablespoon sea salt
1 tablespoon whiskey
Combine caramels and cream in double boiler, stirring constantly until smooth and creamy. Add whiskey, stir. Remove from heat and stir in sea salt. Set aside and cool for 30 minutes.
Salted Caramel Buttercream Frosting
Ingredients:
1 cup unsalted butter
5-6 cups powdered sugar
1½ teaspoons premium vanilla
2-3 tablespoons Easy Caramel Sauce (recipe above)
2 tablespoons mascarpone cheese
There is a trick to the trade with a good buttercream frosting. You don't want the butter at room temperature, but you don't want it too cold. You're aiming for slightly cool.
Cream the butter in medium bowl. Slowly add 5 cups powdered sugar, until full incorporated (if at any point little pebbles form and the mixture won't combine, that's because the butter may be too cool to absorb the powdered sugar. In this case, add 1 tablespoon cream). Add vanilla, caramel sauce and Mascarpone to the mixture until fully combined and creamy (if translucent or loose, slowly add additional 1 cup powdered sugar).
Frost the cupcakes after they have cooled down. Drizzle cupcakes with Easy Caramel Sauce.
BON APPETIT!
Kristina Chrzanowski
Erie, PA