North Coast Brewing's Brewmaster Mark Ruedrich joined Loretta Evans, Food & Beverage Manager, to create a five-course meal featuring North Coast Brewing's award-winning ales paired with wild mushroom dishes. You can re-create parts of the the meal or glean ideas for your own feast. In most of the recipes you can substitute mushrooms you find in your local market. We think you'll enjoy the synergy of our hand-crafted ales paired with food.
Dessert: North Coast Brewing Old Stock Ale and Candy Cap Mushroom Bread Pudding with Old Stock Reduction Sauce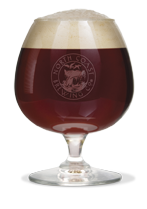 Old Stock Reduction Sauce (make in advance)
Ingredients:
40 oz. Old Stock Ale
1½ cups granulated sugar
4 whole cloves
2 star anise
2 cinnamon sticks
6 whole black peppercorns
Put all ingredients in a heavy bottom sauce pan and bring to a boil. Reduce heat and simmer for 1 hour. Strain sauce to remove spices, put back in pan, keep heat low and reduce to syrup. This takes about 3 hours and will last up to a month in the refrigerator.
Candy Cap Mushroom Pudding
Candy cap mushrooms are the dessert mushroom. They are sweet and smell like maple syrup. You can purchase dried candy caps online. This recipe serves 4.
Ingredients:
1 loaf brioche (found at quality bakeries) – here's a link to a recipe if you want to bake your own
6 oz. white sugar
½ cup dried candy cap mushrooms
8 oz. heavy cream
2 oz. dark brown sugar
9 oz. + 2 oz. milk
2 eggs plus 1 egg yolk
¼ cup turbinado sugar
Cut brioche into cubes and place in a buttered casserole dish or a 13" x 9" enamel or glass pan. Grind white sugar and dried mushrooms together in a food processor and set aside.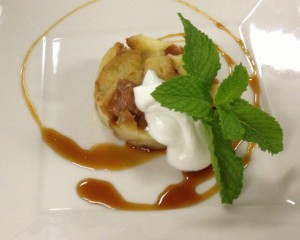 In a heavy saucepan, combine cream, the mixture of white sugar and mushrooms, the dark brown sugar, and 9 oz. of milk and bring to a boil. In a large bowl, whisk eggs and remaining 2 oz. of milk. Slowly pour the cream mixture into the eggs, stirring constantly. Strain the egg/cream mixture through a fine mesh screen over the brioche. Let the bread absorb the mixture. Sprinkle the top with the turbinado sugar and bake in a 300° oven for 1 hour 10 minutes.
Serve on dessert plates swirled with Old Stock Ale reduction sauce and a glass of Old Stock Ale.