North Coast's XXV Anniversary Ale Celebrates 1988 – 2013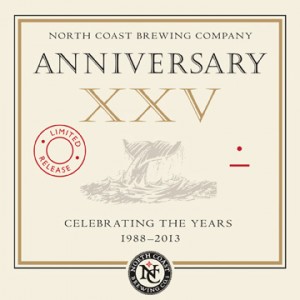 In anticipation of long nights of celebration with the many friends we've made over the last 25 years, the brewers of North Coast have created a Belgian inspired session beer designed to promote a festive mood while minimizing the consequences of overindulgence.
Brewed with pale malts and fermented with the same yeast strain used to make Le Merle, our Twenty-fifth Anniversary Ale is sharp and spritzy with a delicious flowery, spicy dry-hop aroma.
This limited offering is available on tap at fine restaurants and drinking establishments. 750 ml bottles will be available at the Brewery Taproom and the Brewery Shop in Fort Bragg, California.
ABV 4%
Long Awaited Release of Old Stock Ale 2011 Cellar Reserve!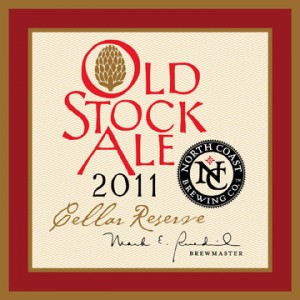 Old Stock Ale 2011 Cellar Reserve is a small batch, limited release that has been aged in brandy barrels. The aging process gives this world-class beer added layers of complexity and flavor. This is the third in a series of the Old Stock Ale Cellar Reserves. Previous offerings were vintage 2005 and 2009, released in 2007 and 2011 respectively.
Bottled in a 500 ml bottle with a cork and wire finish, it is a memorable drink that should be enjoyed as a unique offering.
ABV 15.2%
Recommended serving temperature 60°