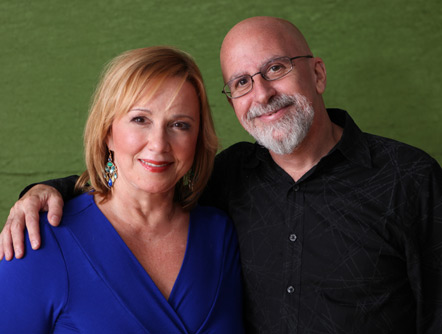 When Grammy-nominated vocalist Roseanna Vitro and celebrated pianist Mark Soskin perform together at North Coast Brewing's Sequoia Room on Saturday, September 27, they will premier their new CD, Clarity – The Music of Clare Fischer. Vitro and Soskin, both now living in New York City, are highly regarded members of the East Coast mainstream jazz scene. The Sequoia Room audience will be one of the first to hear their new album.
From her roots in Hot Springs, Arkansas, Roseanna Vitro moved to Houston, Texas where she performed in the Green Room and had the opportunity to sing with the great jazz pianists Oscar Peterson, Bill Evans and Tommy Flanagan. Her voice coach Ray Sullenger along with Oscar Peterson and saxophonist Arnett Cobb encouraged Vitro to dedicate herself to jazz, so she moved to New York City in 1978 and started performing with pianists Kenny Werner and Fred Hersch. She toured with Lionel Hampton and appeared in all the major jazz clubs including The Blue Note, Iridium, Birdland and Dizzy's Jazz Club at Lincoln Center.
Vitro has collaborated with musicians such as Christian McBride, Elvin Jones, Kevin Mahogany, Steve Allen and David "Fathead" Newman. An active performer, she tours throughout the U.S.A. and abroad. In 2005 she performed and recorded live with Kenny Werner at the Kennedy Center in Washington, D.C. She has recorded twelve critically acclaimed CDs and her 2011 release, The Music of Randy Newman, was nominated for a 2012 Grammy in the Best Vocal Jazz Album category. Vitro taught vocal jazz at SUNY Purchase, taught the Jazz for Teens Program at the New Jersey Performing Arts Center 2000 – 2013, and is currently Chair of the Vocal Jazz Department at the New Jersey City University. She holds workshops, clinics and master classes.
Pianist Mark Soskin has an extraordinary career. After studying composition and arranging at The Berklee College of Music he began to work professionally in Boston, then moved to San Francisco where he performed and recorded with Pete Escovedo and Pete's daughter, percussionist Sheila E. He was enlisted in Billy Cobham's band, did a tour and live recording for the CBS All Stars, and was an active session player at Fantasy Studios in Berkeley. He was introduced to Sonny Rollins, which started a fruitful fourteen year-long collaboration. In addition to extensive touring throughout the world, Soskin played on a number of critically acclaimed recordings with the tenor sax master.
In 1981 Soskin moved to New York City where he has been an active sideman, leader and educator. He has performed and recorded with many stars of jazz including Sonny Rollins, the Escovedos, Joe Henderson, Randy Brecker, Eddie Henderson, Stanley Turrentine, Herbie Mann, John Abercrombie, Slide Hampton and Bobby Watson, to name a few. Soskin has eleven recordings as leader, three as co-leader and seventy recordings as a sideman. He maintains a busy touring schedule and has been featured in solo piano concerts throughout the world. He gives master classes, private classes and workshops and is on the faculty of The Manhattan School of Music. Soskin is featured in "Calle 54," a documentary film about Latin jazz artists.
In 2011 Vitro and Soskin released the Grammy nominated CD, The Music of Randy Newman, in which they created jazz interpretations of Newman's music. This year, at the end of September, they are releasing their latest collaboration, a CD based on the music of Clare Fischer, an accomplished pianist and prolific composer and arranger. Fischer, who was regarded as a master of harmony by such heavyweights as Gil Evans and Herbie Hancock, received eleven Grammy nominations in his distinguished career. He began as an arranger for the vocal group The Hi-Lo's in the late 1950s, and has written and arranged music for Dizzy Gillespie, Cal Tjader, George Shearing, Natalie Cole, Earl Klug, Spike Lee, João Gilberto, Branford Marsalis, Prince, Chaka Khan, Paul McCartney and Michael Jackson, amongst others.
Vitro and Soskin's new CD focuses on Fischer's lifelong passion for the bossa nova and Afro-Caribbean music, which included the pioneering 1962 album Bossa Nova Jazz Samba Fischer made with saxophonist Bud Shank, So Danço Samba released in 1964 and the 1981 Grammy Award winning album Clare Fischer and Salsa Picante Present 2+2.
Roseanna Vitro and Mark Soskin are two of the most accomplished and high profile jazz musicians to grace the stage of North Coast Brewing's Sequoia Room. Jazz aficionados take note! This performance on Saturday, September 27 is an exclusive West Coast appearance by Vitro and Soskin and an opportunity to hear selections from their just released CD.
This Dinner Jazz performance is in North Coast Brewing Company's Sequoia Room at the Brewery Taproom at 444 N Main Street, corner of Main & Pine, in Fort Bragg. Dinner seatings begin at 5:00 for the 6:00 pm show and 7:30 for the 8:00 pm show. Reservations are highly recommended. 707 964-1286 from 10:00 am to 4:00 pm and 707 964-3400 after 4:00 pm – For more information, go to North Coast's Jazz Calendar.