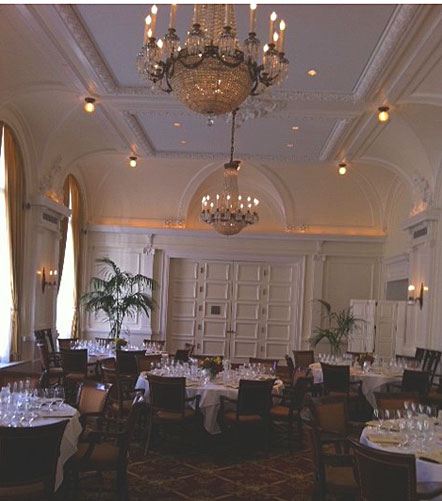 San Francisco's historic Olympic Club, the oldest athletic club in the United States, was the site of a memorable North Coast Brewmaster Dinner on June 28. Chef Peter Harvey prepared a five-star menu that began at an informal reception in the club's lavish Crystal Room with a charcuterie platter, oysters Rockefeller and Bienville, and wild mushroom quesadillas paired with Scrimshaw Pilsner and Red Seal Ale.
The dinner was served in the palm-accented formal dining room and started with a Brandade soufflé and a Pommery mustard reduction which was a great match with Pranqster Belgian-Style Golden Ale. A second course featured a grilled boneless quail with goat cheese polenta, grilled radicchio and aged Balsamico. The Le Merle Saison, which just won the Gold Medal at the Brussels Beer Fest, was a perfect pairing with its tropical fruit flavor note.
The entrée was a hearty braised lamb shank served with aioli and accompanied by a spring vegetable ratatouille. Dessert was a chocolate assiette, including chocolate walnut terrine, white chocolate gelato and raw chocolate tastings. North Coast's Old Rasputin Russian Imperial Stout with its intense chocolate and coffee flavor profile was an obvious choice for this finale.
The Olympic Club's signature "white glove" service added to the elegance of the evening and left 100 guests very happy, well-fed, and thirst-slaked.