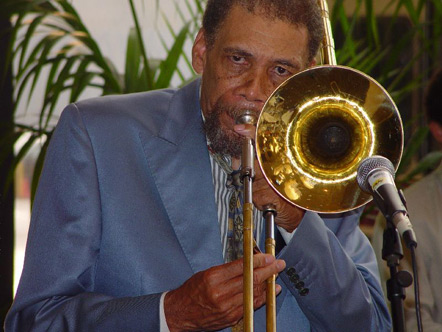 Phil Ranelin's exclusive appearance at North Coast Brewing's Sequoia Room on Saturday, July 19th will be a celebration of the Jazz musician's 75th birthday. It's a party everyone is invited to attend! Trombonist, sideman, bandleader, composer, arranger and teacher, Ranelin's done it all for many years and he hasn't stopped yet.
He was born in Indiana where he studied trombone and began his career, sitting in with Wes Montgomery, Eddie Harris and other notable musicians. In 1964 Ranelin's childhood friend, Freddie Hubbard, asked him to come to New York to join and record with his group. After his time in New York and a brief return to Indiana, Ranelin moved to Detroit in 1968 to perform and teach musically advanced inner city children. He co-founded "Tribe," an artists' collective of jazz musicians who learned the business and recording aspects of music to maintain more artistic control. The Tribe also published its own magazine with political and social commentary as well as music reviews and interviews.
As a session player for Motown Records, Ranelin played on albums for Stevie Wonder, Smokey Robinson, The Four Tops and The Temptations. He also performed in the Motown traveling band, the Swinging Dashikis. Ranelin's Motown work enabled him to invest in his own music, which eventually allowed him to produce his own records.
In 1977, Phil moved to Los Angeles where he still lives. The names of Jazz musicians he has recorded and performed with read like the Jazz Hall of Fame. A partial list includes Ella Fitzgerald, Art Pepper, Sarah Vaughan, Tootie Heath, Freddie Hubbard, Stanley Clarke, Christian McBride, Les McCann, Sonny Rollins, Wayne Shorter, Jimmy Smith, and McCoy Tyner.
From the Midwest to the East and West Coasts, Phil Ranelin has made his mark on Jazz. Now he and his band – Aaron Provisor, piano, Eugene Owens, bass and Don Littleton, percussion – are coming to North Coast Brewing's Sequoia Room to share their history, talent and enthusiasm for live Jazz performance.
Come to the celebration! Dinner seating begins at 6:00 pm with shows at 7:00 and 9:00. Reservations are not necessary but are recommended.
707 964-1286 daytime or 707 964-3400 after 5:00 pm
North Coast's Brewery Taproom is located at 444 N. Main St (southeast corner of Main & Pine) in Fort Bragg, CA.