Reduce, Reuse, Recycle, Re-Earth
We're proud to announce that North Coast Brewing Company is TRUE Zero Waste Platinum Certified as of October 2017, with 99.36% of our waste diverted from landfills.
What Zero Waste Certification Means
GBCI's
TRUE Zero Waste certification program
is used by facilities to define, pursue and achieve their zero waste goals, cutting their carbon footprint and supporting public health. The certification goes beyond diversion numbers and focuses on the upstream policies and practices that make zero waste successful in any organization and beyond.
Certification levels are based on points accrued across a number of different categories, with Platinum — North Coast Brewing Company's certification — being the highest level.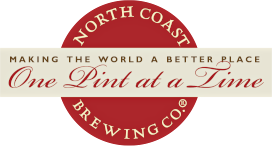 TRUE Zero Waste Certification is an important part of our overall identity and our corporate responsibility. We believe this is what everyone should be doing. It should be a routine part of business. We're grateful that there are organizations like GBCI that are helping us fulfill our responsibility to our community and the world.
Here's How We're Making it Happen
REDUCE —
 We worked with our label supplier to right-size their shipment boxes and eliminate the bubble wrap padding that used to come with every delivery.
REUSE — We have developed systems that emphasize reuse, like bundling our kegs with giant, reusable rubber bands instead of shrink wrap for in-house transport.
RE-EARTH (COMPOST) — We believe in the strategic value of composting so much that we helped buy a farm that now composts virtually all of our spent grain, hops and yeast slurry.
RECYCLE — We have examined all categories of potentially recyclable materials to ensure that we are making the best use of all of them, but only after eliminating what we don't need and exploring avenues for reuse.
PURCHASING — Our Environmental Purchasing Policy guides staff to choose certified products and durable goods over disposable items. We also purchase in bulk whenever possible, with 82 percent of our raw materials arriving in bulk shipments.
EFFICIENCY — Our mash filter installed in 2015 requires less raw materials to make the same amount of product.
LEADERSHIP — Our incentive program effectively generates waste reduction ideas from employees, who receive a gift when their suggestions are implemented.
TRAINING —
 Zero Waste training is incorporated into all new employee orientation sessions (along with our B Corp certification orientation) and into routine safety and operation meetings.
ANALYSIS & REPORTING — We keep careful records by commodity and waste fields, and we conducted our first Recycling Audit in 2017. That's how we know we diverted 99.36% of our waste!
UPSTREAM MANAGEMENT — We have a policy and standard practice to use only recyclable packaging for our products whenever possible.
HAZARDOUS WASTE PREVENTION — All hazardous materials are collected separately and disposed of in the proper hazardous waste channels.
CLOSING THE LOOP — Waste byproducts stay local to be composted by our partners at Fortunate Farm. That compost is used to grow vegetables that stay in our foodshed — some of which are served in our Taproom.
INNOVATION — Carbon sequestration is an important facet of our sustainability effort. We've partnered with our local Resource Conservation District, Fibershed, and the Carbon Cycle Institute to write our carbon farming plan and to advise us on soil sampling and best practices for land management and conservation.
Want to learn more about our commitment to the environment, our employees and our community?