Spring is officially here, and North Coast Brewing welcomes its arrival with the return of our spontaneously soured Berliner Weisse. Adorned with delicate cherry blossoms, and blushed pink by Montmorency cherry juice from King Orchards in Michigan, the spring edition of our "Berlin White Beer" series is the perfect beverage for the sunny days ahead. Find Tart Cherry Berliner Weisse near you, and stay tuned for the summer release of the Passionfruit-Peach edition.
The History of Berliner Weisse
Berliner Weisse translates to "Berlin White Beer," and it was once the most popular beer style in Berlin. Record of Berliner Weisse production dates back to the 1600s and by its peak consumption in the late 19th Century, it was produced by over fifty breweries in Berlin, which was considered to be the preeminent brewing city in Continental Europe at that time.
With the arrival of pale lagers, the brewing style fell out of popular taste, and the number of producers dwindled to just two by the end of the 20th century. In spite of its centuries old brewing history, which included earning the title of  "Champagne of the North" from Napoleon's troops in 1809, the Berliner Weisse was verging on extinction.
Brewing our Berliner Weisse
At North Coast Brewing, we have proudly brought an independent point of view to beer lovers across America and around the world. Over our 30 year history we have accomplished this by innovation and by mining brewing history, researching and bringing to life our own interpretations of old and under-appreciated brewing styles, like the Russian Imperial Stout (Old Rasputin – 1995) and Old Ale (Old Stock Ale – 2000).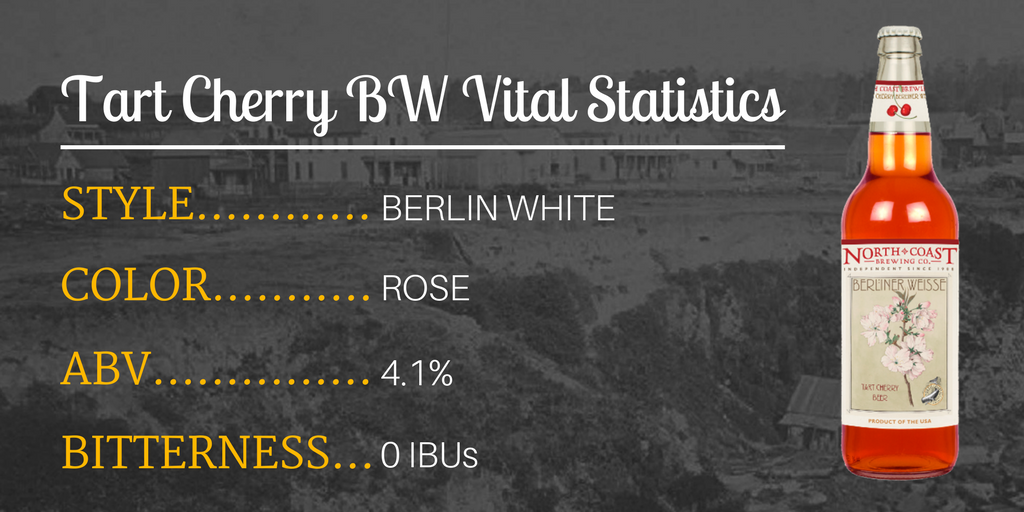 Our Berliner Weisse series, a recent addition to our lineup of beers, is our interpretation of a classic German style, spontaneously soured using lactobacillus occurring naturally on the malt. The outcome is a delicate, yet fully-flavored distinctly sour beer with a low ABV. Berliner Weisse is a delightful departure from the big-hops/big-beers trend and appeals to a wide spectrum of beverage enthusiasts and palates, rapidly gaining a following among people who wouldn't necessarily consider themselves beer lovers.
Our expression of this traditional brewing style is both a nod to the past, and a celebration of the seasons. Each of our limited Berliner Weisse beers features seasonal fruits: Passionfruit and Peach in the summer and Cranberry and Quince in the fall.
Tart Cherry Berliner Weisse is Now Non-GMO Project Verified
In 2017, North Coast Brewing's 13 core beer brands received Non-GMO Project Verification and were delighted to announce that Tart Cherry Berliner Weisse has been added to the list of verified beers.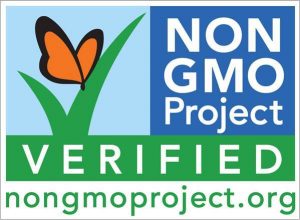 Non-GMO verification is part of the brewery's ongoing process of demonstrating commitment to high quality and transparency in craft beer production. We believe you have the right to know what's in your beer.
Now Available in 12 oz Four Packs
Formerly released only in 22 oz bottles and ⅙ barrel kegs, the Tart Cherry Berliner Weisse is now also available in 12 oz 4-packs for a limited, spring season run.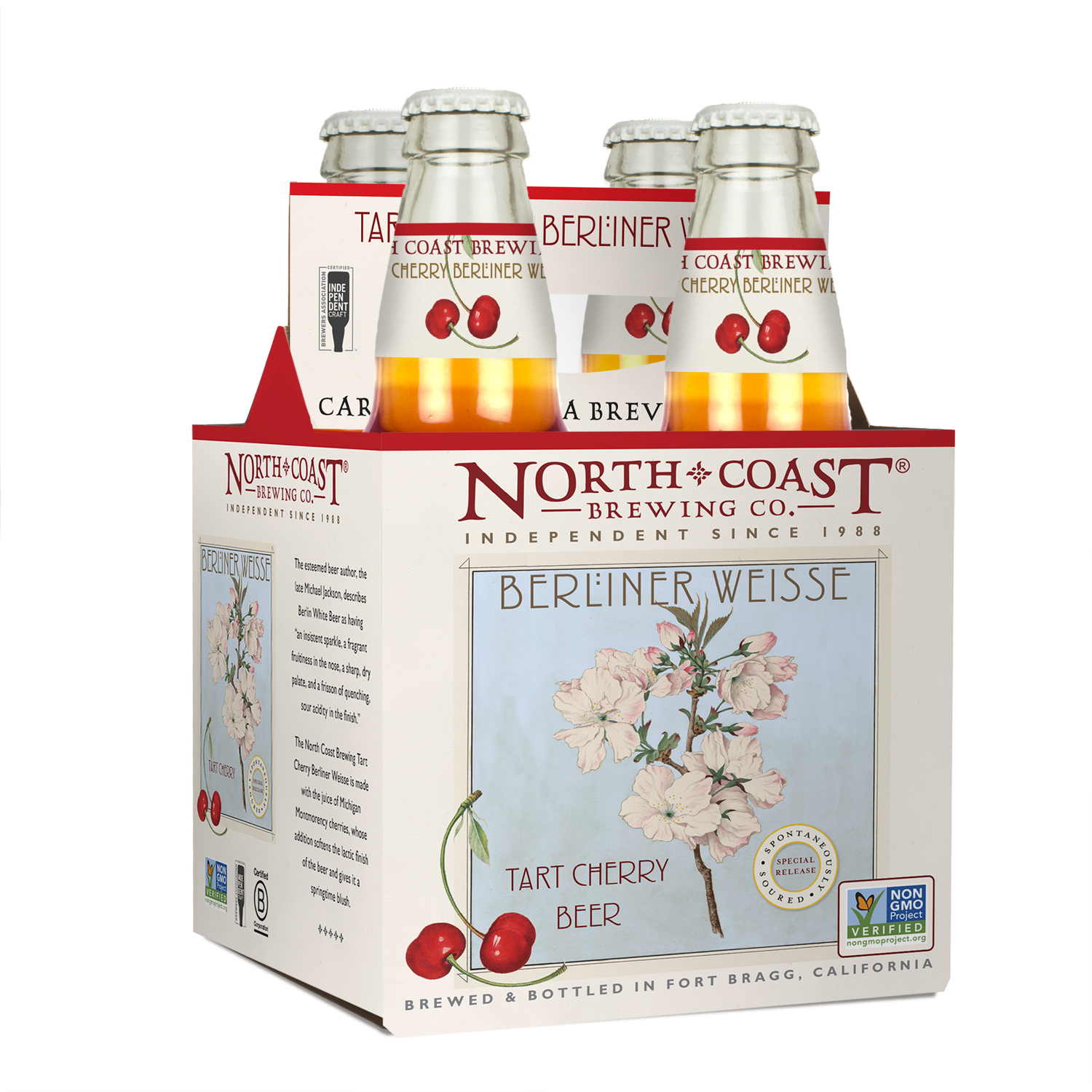 Influential beer expert and writer, the late Michael Jackson, describes "Berlin White Beer" as having an "insistent sparkle, a fragrant fruitiness in the nose, a sharp, dry palate, and a frisson of quenching, sour acidity in the finish." At just 4.1% ABV, we think it is an ideal session beer for sunny springtime picnics. It also pairs perfectly with a rich, flourless cherry (or raspberry) chocolate cake!
Tart Cherry Berliner Weisse is on its way to better beer stores nationwide. Use our Beer Locator to find it near you or request that your local beer vendor carry it.