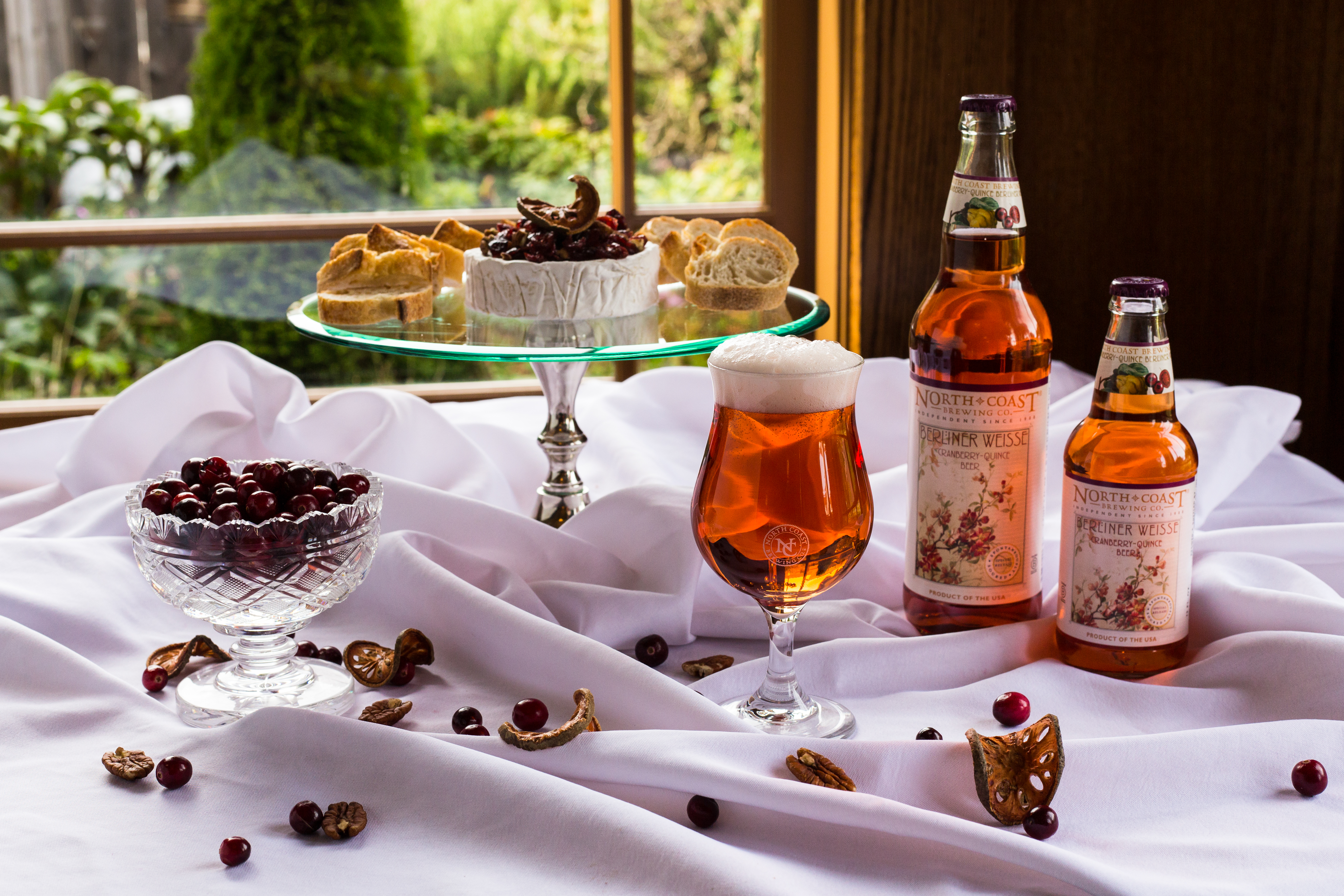 With the holidays approaching, North Coast Brewing Company suggests the Cranberry-Quince Berliner Weisse as a delicious seasonal go-to beer to pair with holiday dishes. Cranberry-Quince blends the juices of Oregon cranberries and the pear-like quince to create a delectable fruity brew that has a richness guaranteed to enhance any seasonal dish, at home or at a holiday gathering.
Not only does Cranberry-Quince complement an array of holiday dishes, it also has the sublime mix of fragrant fruitiness and acidity to pair with a classic cheese board for your holiday festivities. North Coast Brewing president and co-founder, Mark Ruedrich, recommends a baked brie, Milton Creamery Flory's Truckle cheese and Cheddar Prairie Breeze, to bring out the flavors of the beer. North Coast Brewing Company's favorite baked brie recipe is from Giving Thanks, noted below, which combines cranberries and pecans with brie to elevate the taste of Cranberry-Quince.
Cranberry-Quince is released seasonally this winter, so make sure to grab a bottle for a dose of holiday flavor before it's gone!
Recipe for Cranberry Pecan Brie:
(from Giving Thanks by Kathleen Curtin, Sandra L. Oliver and Plimoth Plantation)
Serves 8-10 people
1          8 ounce round of Brie cheese, at room temperature
1/3C    dried cranberries
1T        firmly packed brown sugar
1T        butter
2 T       chopped pecans
Create a shallow bowl in the top of the Brie to hold the cranberry topping:
To do this, use a paring knife, to make a shallow cut in the top of the Brie rind about ¼ inch from the edge. Peel or scrape away the rind in the middle, leaving a ¼ inch from the edge. Place the brie on your microwave-safe serving dish and set aside while you make the topping.
Combine the cranberries, brown sugar, butter, and pecans in a small microwave-safe bowl. Place the bowl in the microwave and heat on high for 30 to 60 seconds or until the butter melts. Spoon this mixture on the top of the Brie.  Place the cheese in the microwave, and heat on high for 45-60 seconds or until the Brie is warm, soft, and gooey. Continue to heat at 15 second intervals until the consistency is achieved.
Serve warm with French bread.