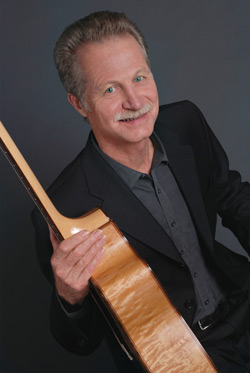 Finger-style master Alex de Grassi and Jazz guitarist Mimi Fox join forces to find common ground and mix it up in an evening of guitar solos, duos and improvisation. The two musicians are up for anything and everything in a set covering original compositions, unlikely arrangements of folk and pop melodies and jazz standards. It promises to be an exceptional evening of music when these two world-class guitarists perform together on the stage of North Coast Brewing's Sequoia Room on Friday, September 5.
As a young, largely self-taught player, Alex immersed himself in American and British blues and folk traditions, eventually studying jazz and classical guitar. He has become known for his evocative compositions and virtuosity, and is widely acclaimed as a leading innovator and maestro of acoustic guitar. Using a broad palette of techniques and timbre and fusing a variety of guitar traditions together, he weaves melody, counter-melody, bass, harmony and rhythm into a canvas of sound, taking the listener well beyond the instrument. As Guitar Player Magazine stated, "…his solo string steel-pieces resemble orchestral overtures more than mere songs."
His early Windham Hill recordings of original music as well as his arrangements of folk, jazz and world music have influenced a whole generation of young players. Alex's thirty years of international touring include performances at Carnegie Hall, the Kennedy Center, the Montreux Jazz Festival and numerous guitar festivals. He has been commissioned by Acoustic Guitar Magazine to compose a concerto for steel-string guitar and string orchestra. He received two commissions from the New York Guitar Festival to score for their "Silent Films/Live Guitars" series. Festival director David Spelman says "Alex de Grassi is a treasure…his technical wizardry as well as his vibrant and poetic music-making make him one of the most distinctive steel-string guitarists performing today."
Mimi Fox, an internationally renowned guitarist, composer and recording artist, has been
named a winner in six consecutive Downbeat Magazine polls and recognized by writers and colleagues alike as one of the most eloquent jazz guitarists on the scene today. She has performed and recorded with jazz luminaries Charlie Byrd, Stanley Jordan, Branford Marsalis, David Sanchez, Abbey Lincoln, Diana Krall and Kevin Mahogany, to name a few. She has also performed outside of the jazz world with legends Stevie Wonder and John Sebastian and with Patty Larkin's Vanguard Records-produced La Guitara project.
Mimi began recording in the 1990s and has released ten albums as a leader. She maintains a whirlwind international touring scheduling and has performed at the Montreal, Guinness Cork, Perth International and Monterey Jazz Festivals. She has headlined at elite venues such as The Blue Note, and Village Gate in New York City, The Kennedy Center and Blues Alley in Washington D.C., and Yoshi's and the Great American Music Hall in San Francisco. She has written original scores for orchestras, documentary films and dance projects while receiving grants from funders such as Meet the Composer and the California Arts Council.
Both Mimi and Alex are educators and clinicians. Mimi has taught master classes worldwide while serving as head of the guitar program at the Jazz School in Berkeley, California and Adjunct Professor at New York University. In 2005 she received an award from the International Association of Jazz Educators for outstanding service to jazz education. Alex has been a frequent guest teacher at the National Summer Guitar Workshop, the University of Milwaukee, and the Interlochen Institute. He has given master classes at Berklee School of Music, Crown of the Continent and the Omega Institute. Both Alex and Mimi have published books on guitar instruction.
This Dinner Jazz performance is in North Coast Brewing Company's Sequoia Room at the Brewery Taproom at 444 N Main Street, corner of Main & Pine, in Fort Bragg. Dinner seatings begin at 5:00 for the 6:00 pm show and 7:30 for the 8:00 pm show. Reservations are highly recommended. 707 964-1286 from 10:00 am to 4:00 pm and 707 964-3400 after 4:00 pm – For more information, go to North Coast's Jazz Calendar.