We're proud to release our 2017 Sustainability Report, now available online, documenting our plan to make the world a better place, one pint at a time.
Acknowledging climate change as the biggest challenge facing the world today, we have accelerated our commitment to crafting planet-friendly beer while remaining unwavering in our dedication to quality.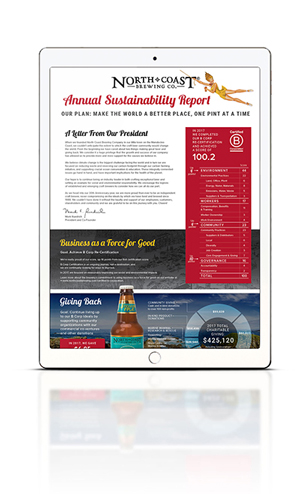 "Our hope is to continue to be an industry leader in both crafting exceptional beer and setting an example for social and environmental responsibility," President and Co-Founder Mark Ruedrich said. "We encourage the legions of established and emerging craft brewers to consider how we can all do our part."
In addition to our brewery's focus on environmental initiatives, the 2017 Sustainability Report highlights our commitment to our community and employees, including a giving back program that saw hundreds of thousands of dollars donated to more than 100 nonprofits.
Highlights from this year's report include:
B Corp Certification
Philanthropy
In 2017, our brewery gave $6.85 per barrel of beer, more than double the industry average for craft breweries.
Charitable giving in 2017 totaled $425,120, including contributions to marine mammal research, jazz education, and community organizations.
Employee Engagement
North Coast Brewing employees increased their volunteer time by 38% compared to 2016.
We launched an innovative lending program that lets employees facing an unexpected financial emergency borrow money from a local bank.
Carbon Footprint Reduction
Non-GMO Verification
Water Conservation
We captured and reused more than 2.4 million gallons of water from the brewing process.
Compared to the industry median, North Coast uses nearly a gallon less of water per gallon of packaged beer produced.
Sustainable Sourcing
In our retail store, 92.76% of merchandise expenditures were with USA vendors for made-in-the-USA products.
41% of our taproom expenditures were for sustainably sourced goods.
To learn more, view or download our 2017 Sustainability Report!
About North Coast Brewing Company: Founded in 1988, North Coast Brewing is a Certified B Corp and a California Benefit Corporation whose mission is to make the world a better place one pint at a time. Their pioneering brewing efforts with Old Rasputin, their Belgian style ales, and barrel aging, along with their focus on sustainable practices, have established them as leaders in the craft beer community.